The international festival SPOT, organised by The Arts Printing House, will take place in Vilnius for the fifth time and invite all residents and city guests to discover street arts and look at everyday city life from a different perspective. The international street arts festival SPOT will take place on July 7-10, and the theme of this year's festival is territories and boundaries.
Every year SPOT festival turns Vilnius into a unique playground, presenting the works of both foreign contemporary street artists and Lithuanian creators, introducing not only to the festival's diverse artistic program but also inviting to the festival's discussions and educational activities.
PROGRAM:
IŠ|MiESTAS | A. Rudelytė, M. K. Zujutė, V. O. Makūnaitė, R. Jankauskytė (LT) | Atvira erdvė'22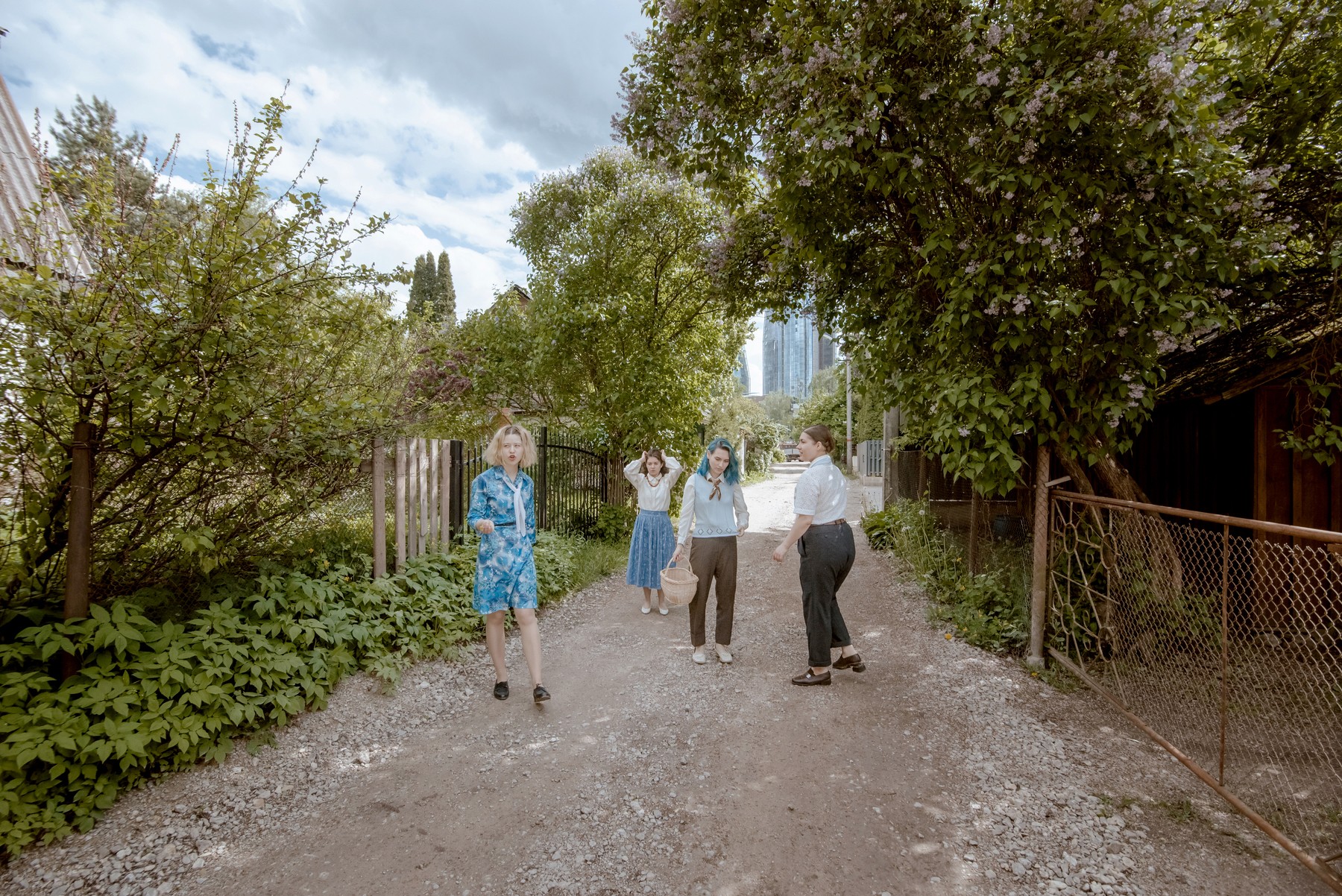 Presentation of the work in progress by the winners of the Arts Printing House program "Open Space".
During the creative process, the artists visited small, declining Lithuanian villages and towns – Beržėnai, Krivonys, Totoriškės, Virškupėnai, Kvetkai, Skrėbiškis and Užventis, where they tried to understand what it means to live in a place that is dying out. Although all of these places are geographically distant from each other, they are all linked by a single desire of the habitants – to preserve their habitats, even though it is difficult for them to acknowledge their extinction. While travelling along the gravel road of Šnipiškės streets, in the background of surreal skyscrapers, we will try to answer the question – a physical body, a house, a village, everything that is material disappear into earth or fire, but where do the memory and spirit vanish? After all, the spirit has to go somewhere too?
July 7, 18:00 and 20:00
Duration: 50 min
Meeting place: Šnipiškės, next to "Vilniaus Lavestina" building (Kalvarijos st. 66)
Registration is required: https://bit.ly/IŠMiESTAS_Registracija
7 minutės | K. Bujanauskas, L. Vervečka, I. Juškevičiūtė, L. Dirsė, T. Stonys, Ž. Dubnikovaitė (LT) | Atvira erdvė'22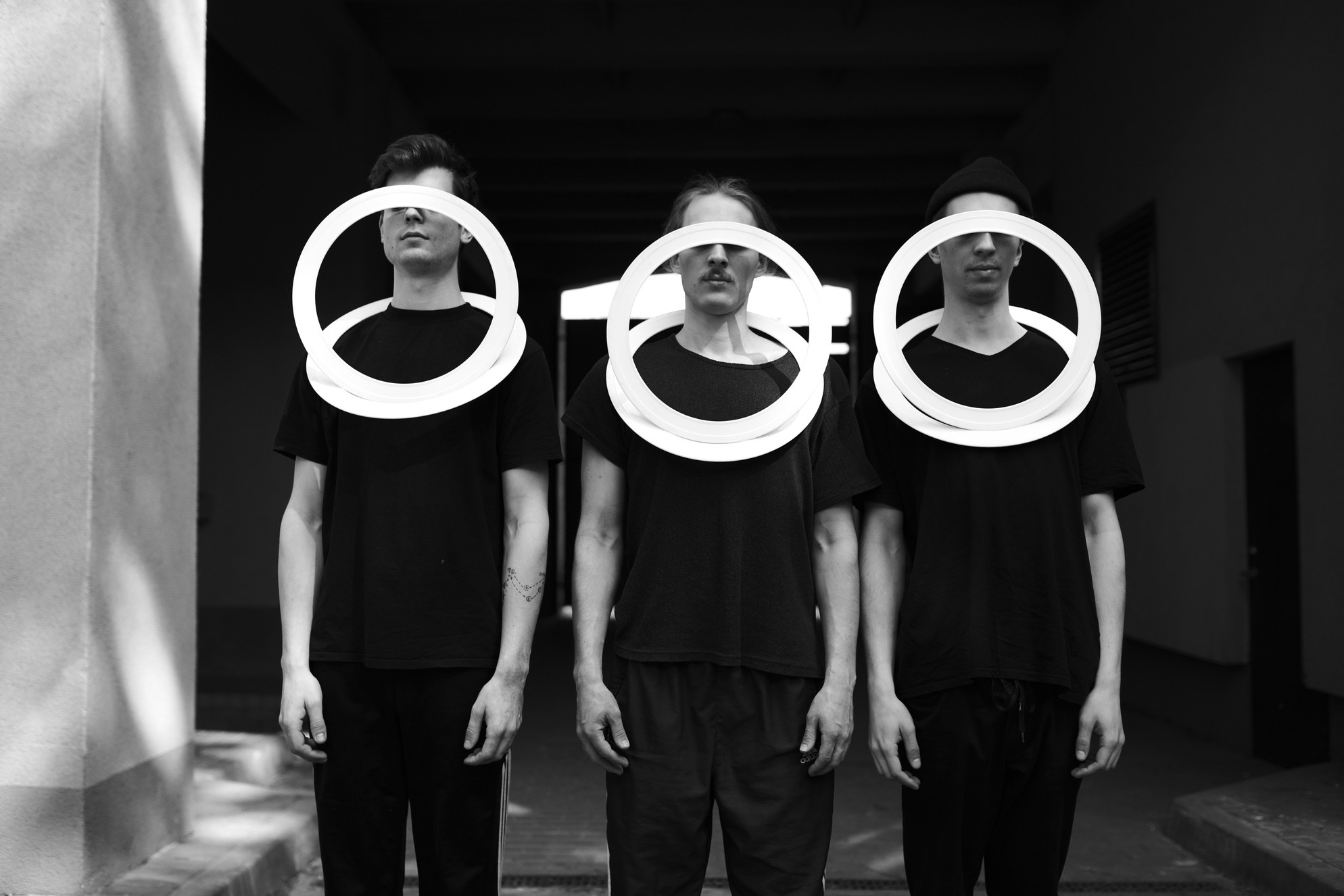 Presentation of the work in progress by the winners of the Arts Printing House program "Open Space".
Concentration distracts and the random circumstances of life suddenly put everything into place. However, taking a step beyond the threshold to uncertainty turns out to be safer than not stepping over it and remaining calm and undisturbed. The road of one person through himself becomes a part of a long process – what is this process and what is the purpose of this journey, even the artist himself is uncertain of it.
Three different personalities. Three different fields of art. Three different moods. And only 7 minutes.
July 7, 21:30
Duration: 50 min
Location: courtyard of the Arts Printing House (Šiltadaržis st. 6)
Pasakų parkas | MMLAB (LT)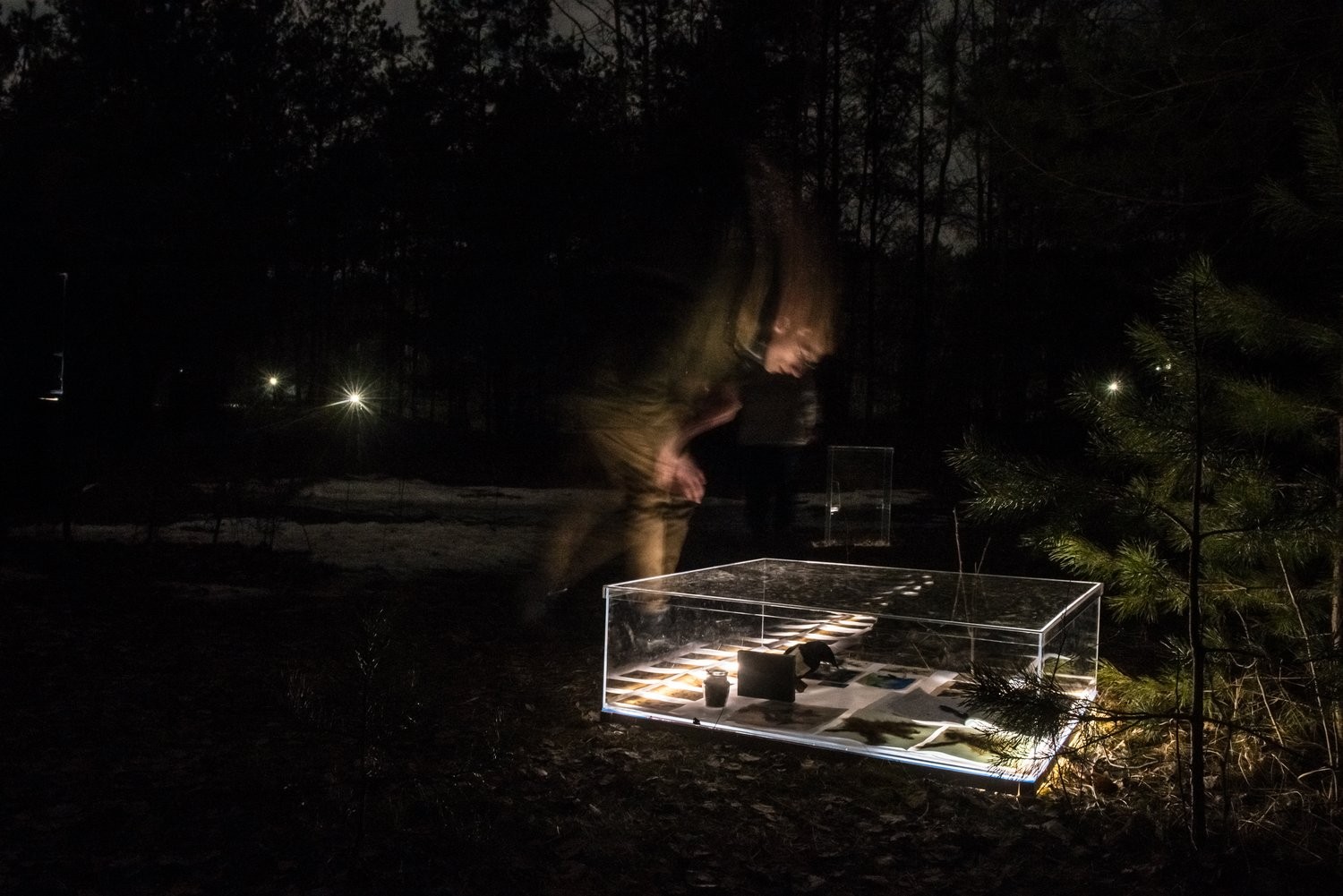 Some myths have not yet been created. Not all fairy tales have happy endings. The legendary Vilnius Fairy Tale Park invites for an unusual walk. While the headphones are telling a story of a girl who came to this park for a date, the play of lights and the unexpected visual hints are intriguing the viewer travelling alongside: where does the fairy tale of this place end and where does reality begin? Or perhaps this walk is just another myth? The Fairy Tale Park mythologises real crimes and draws the monsters of urban legends into the dim light of installation that complements the stories. Not the ones that hide under the beds, but the ones that force you to look over your shoulder while you are wandering in the shadows of the park. By the way, they have their own story too.
July 7, 22:30 / July 7, 23: 00 / July 7, 23:30
Duration: 1 hour
Location: Fairy Tale Park, Lazdynai
Registration is required: https://bit.ly/PasakųParkas_Registracija
SPOT workshop | Finding your filter | Electrico 28 (CAT)
A filter is a conscious gaze that permeates the eyes, the body and the mind and manages to conquer ways of intervening, thinking, defining or narrating something. Your filter is your essence, and this workshop is intended to find it and store it with love to transform it into an expressive lever in public spaces.
Workshop presentation: July 8, 17:00
Duration: 40 min
Meeting place: Arts Printing House (Šiltadaržis st. 6)
The workshop will take place from July 4th, registration is required: https://bit.ly/Findingyourfilter_Registracija
GAME THEORY | Joshua Monten dance company (CH)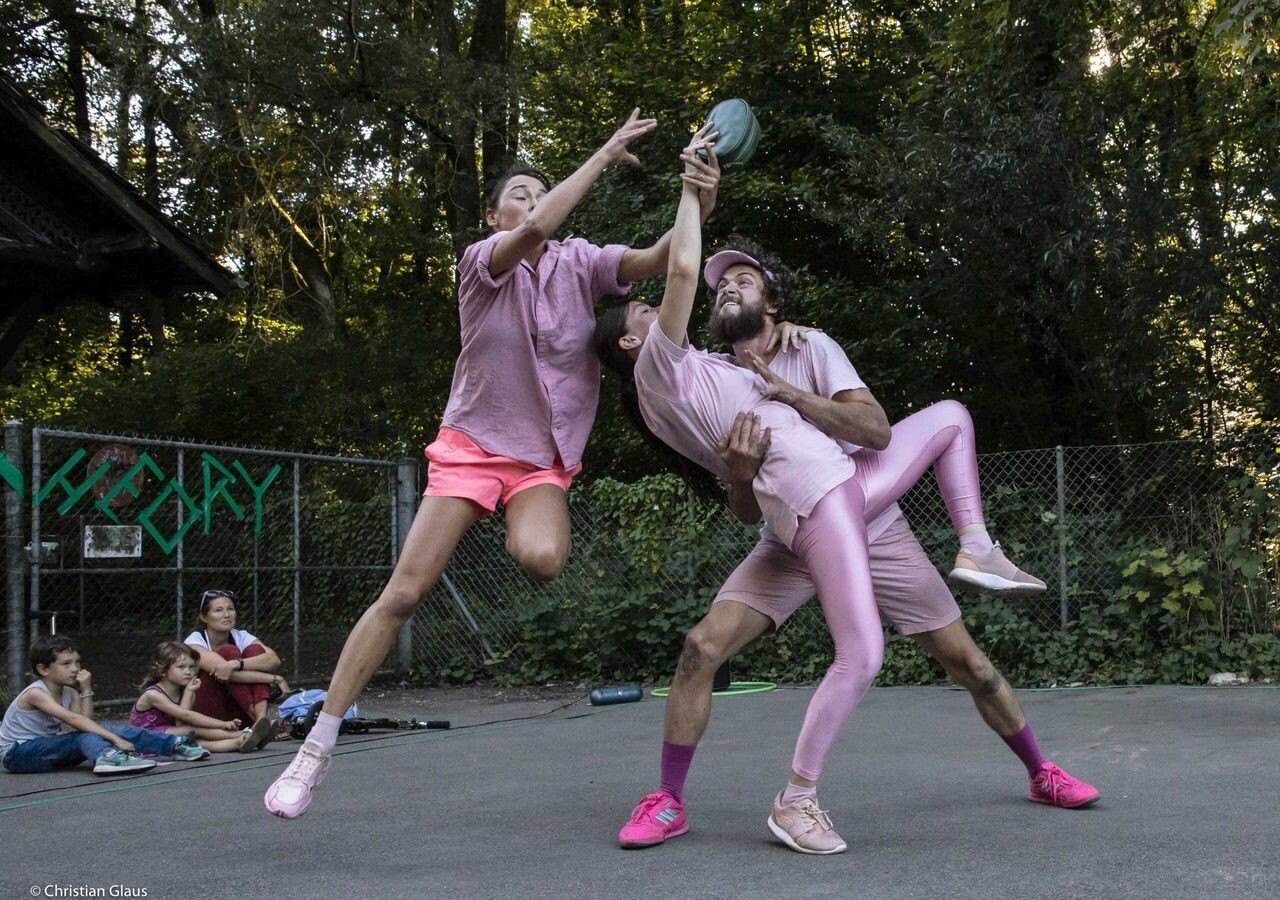 Let's be frank: the games we like the best are often the ones we probably shouldn't be playing in the first place. Games that have consequences and risks, games that are more than just a game, games that make our heads spin and can break our hearts. Game Theory invites to look more deeply at some of the building blocks of a game: freedom and rules, rituals and surprises, adrenaline and flow. The result is an aesthetically rigorous dance composition with ample room for freedom and joy.
July 8, 18:00 / July 9, 12:00 / July 9, 16:00
Duration: 45 min
Location: Kaukysa sports pitch (Kaukysa st. 18)
D-CONSTRUCTION | Cie Dyptic (FR)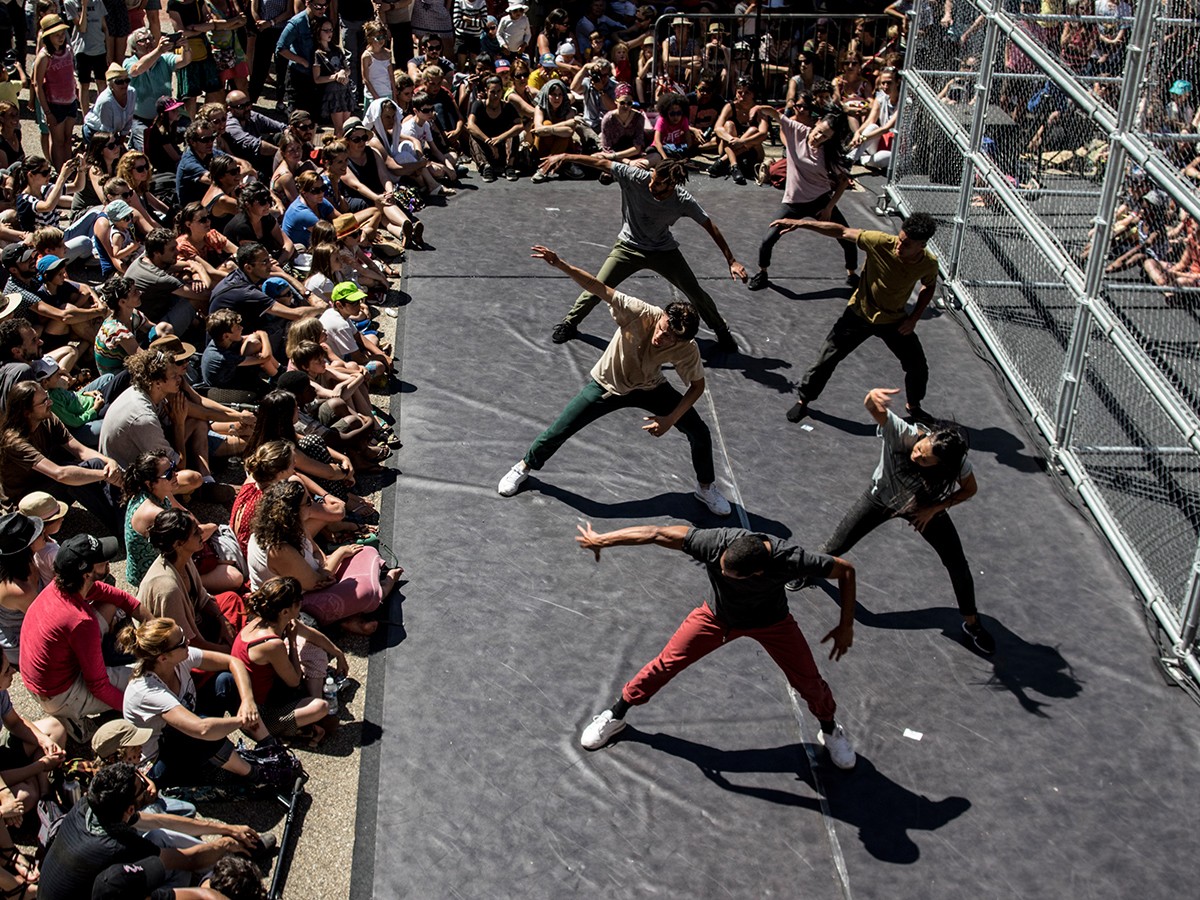 D-Construction is a very energetic hip-hop dance performance with a powerful beat and an oriental twist. Six dancers experience the liberation of the mind through movement. Merging into a group, they create a stronger entity; breaking apart, they assert their uniqueness. A metal scaffolding stands in the middle of the playground and the dancers interact with it. It cages, protects and frees them at the very same time. D-Construction connects, inspires and destroys in order to create something new.
July 8, 19:00 / July 9, 19:00
Duration: 35 min
Location: Lukiškės square
SPOT PARTY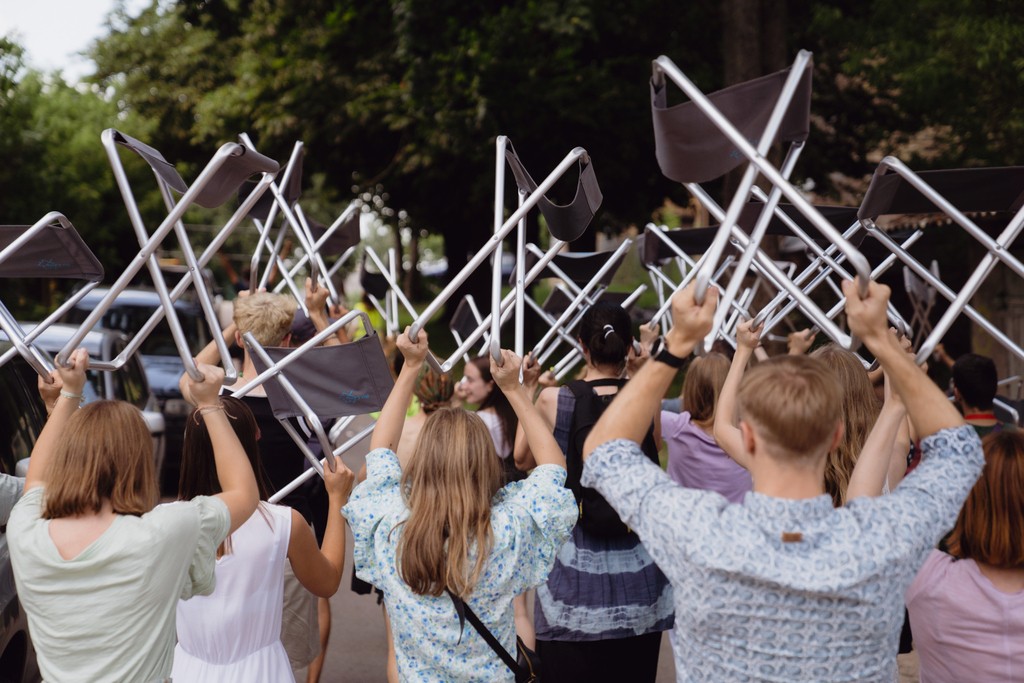 The fifth annual SPOT festival invites to a SPOT PARTY, which will be filled with music, festival participants, visitors and a great mood! Laurynas Žakevičius, dancer and one of the founders of Low Air, will take care of the music behind the DJ console.
July 8, 20:00
Location: Shinzo (Šiltadaržis st. 6)
Studio Cité | Benjamin Vandewalle (BE)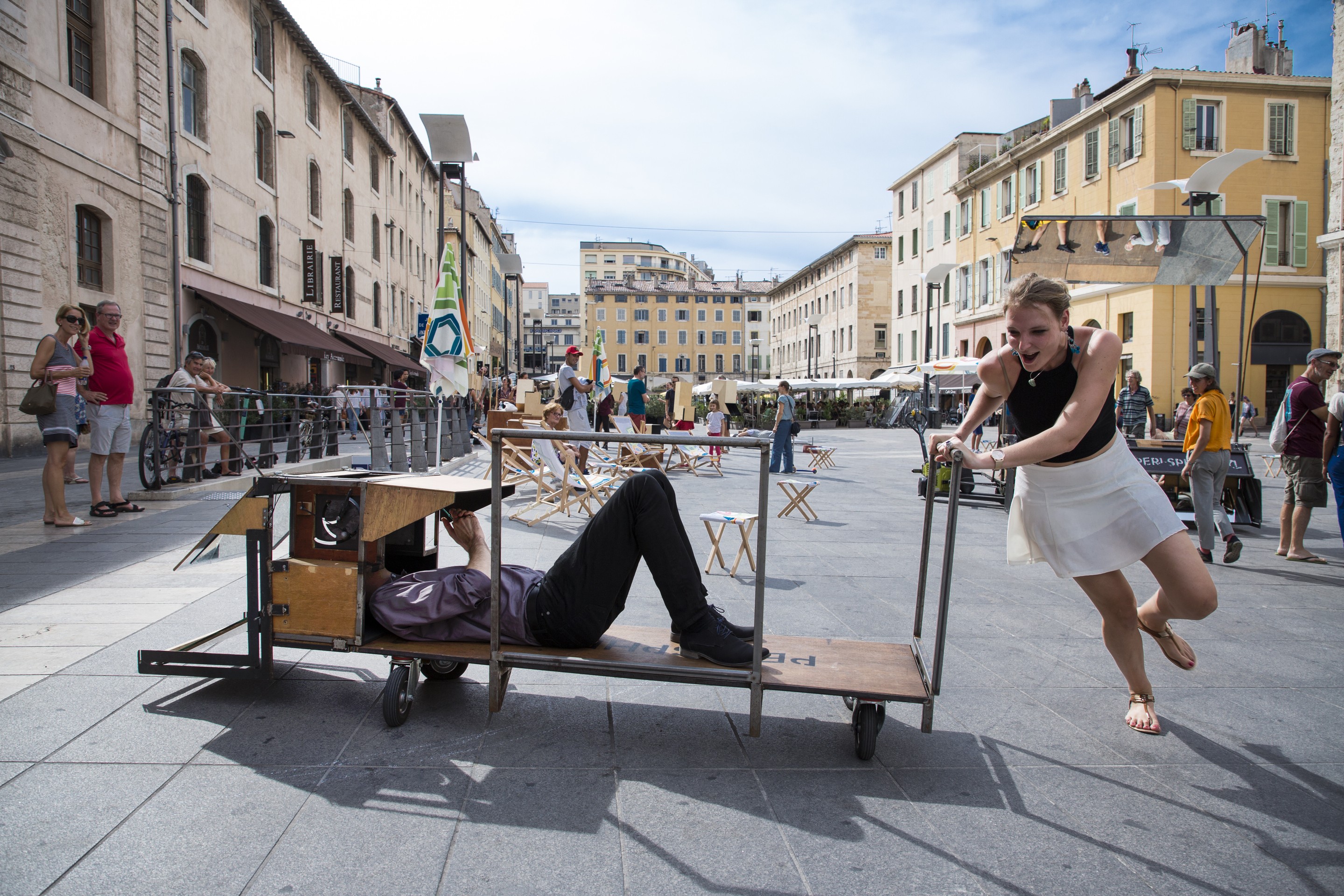 Studio Cité is an experiential project that turns the public space into a peculiar art fair of eleven different creative installations by Benjamin Vandewalle. Each in their specific way, the installations bring the gaze of the theatre to the public space. Rather than, like in theatre, creating a piece from scratch with the carefully selected set, lights and bodies, Benjamin Vandewalle works primarily with that which is already there: the streets, the architectural elements that compose it, passers-by, trees, the weather of the day, etc. These performative installations force us to use our senses differently, observe and experience reality from a new angle. Studio Cité installations operate autonomously but constantly resonate with each other in terms of content and form, and most importantly, they interact with the audience and the city.
July 9, 12:00 – 18:00 / July 10, 12:00 – 18:00
Duration: 6 hours, installations can be experienced as much as desired
Location: Town Hall Square
[ THE FRAME ] | Electrico 28 (CAT)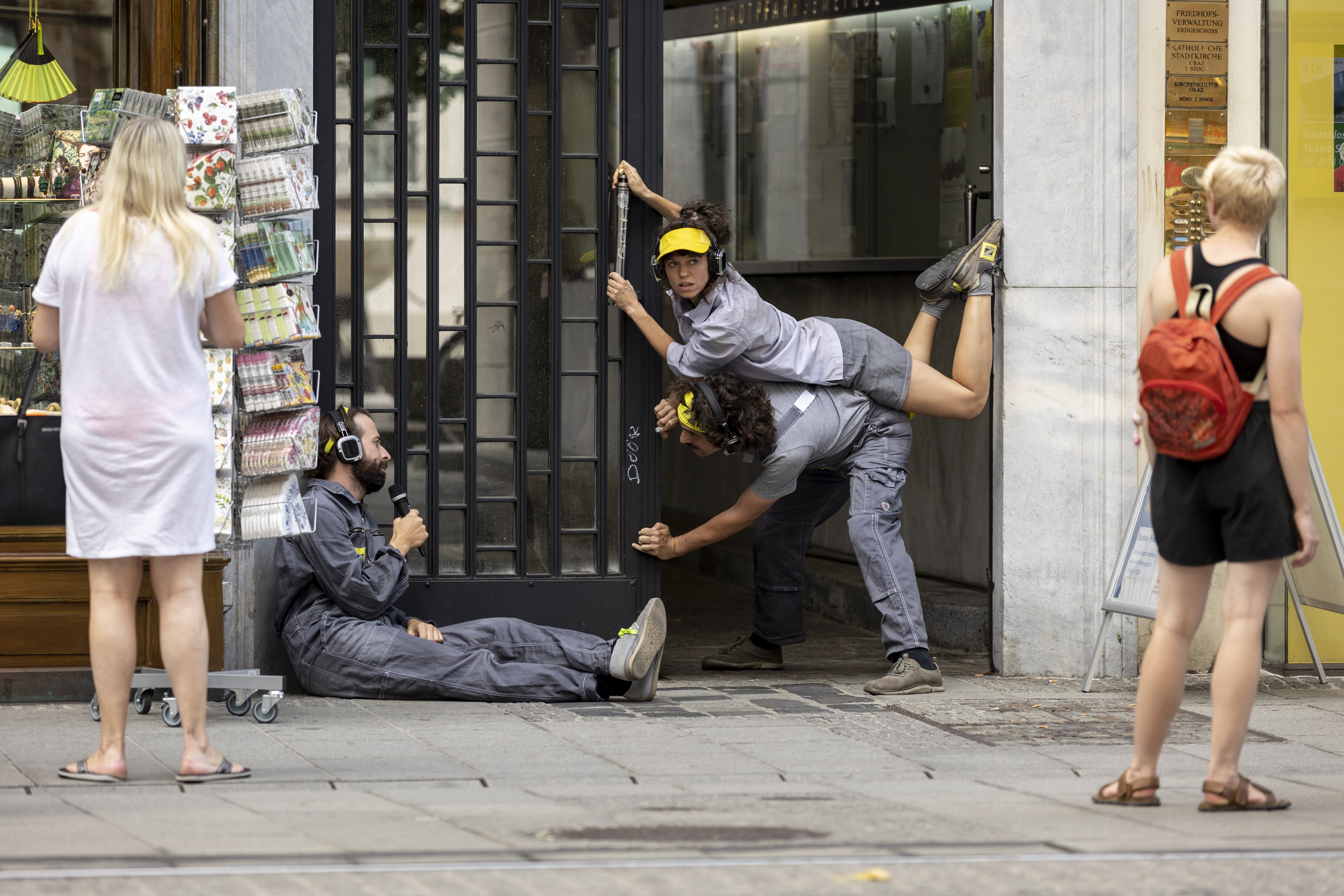 Inspired by the observations and arrangement of emptiness by the French writer George Perec, [ The Frame ] proposes to find a comfortable place to settle down in front of the constantly changing city life, as if sitting in front of a TV, in order to observe it, think it, calculate it, share it, designate it, take note of the most important things and share them... Four characters, trained in the disciplines of observation and arranging the space, the things and the beings, will help viewers see the city with the help of letters that become words and words that become phrases. For some time, everything becomes a big street play with no beginning or end. A play without a plot that wants to balance on the triviality and banality of the moment with the help of a magnifying glass. [ The Frame ] is an invitation to open our hearts and eyes to the irrelevant, as well as an opportunity for adventure. Are you ready for that?
July 9, 14:00 and 17:00 / July 10, 12:00 and 15:00
Duration: 50 min
Location: near the Vaga bookstore "Draugystė" (Gediminas ave. 2)
Registration is required: https://bit.ly/TheFrame_Registracija
SPOT workshop | Border Games on streets of Vilnius | L. Žakevičius (LT) & S. Garibashvili, M. Koreneva (UE)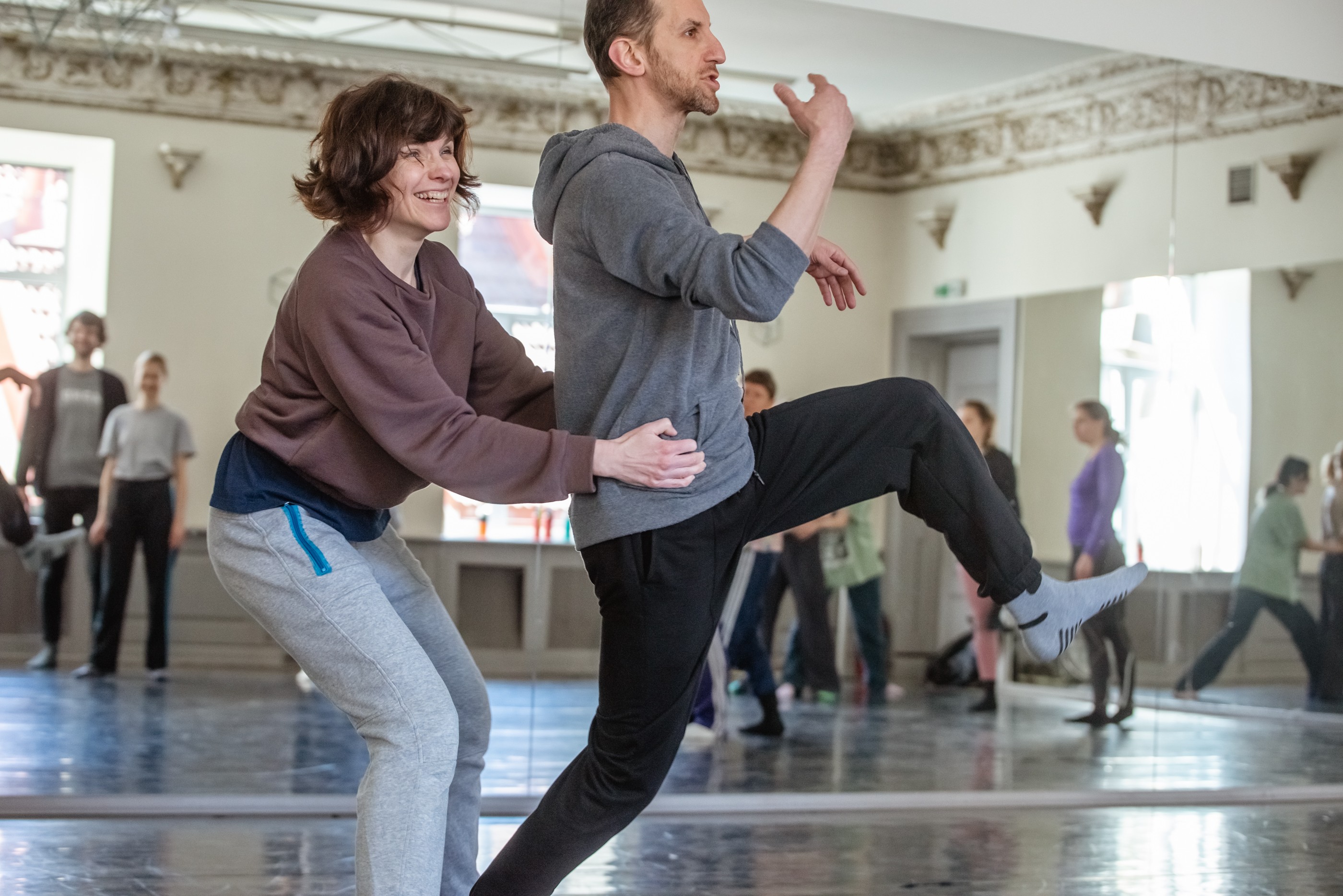 A two hour performance workshop, conducted by, Low Air Vilnius city dance theatre and Ukrainian Physical Theatre teachers. We will start from simple space and composition exercises, develop them into a street research walk, using the context of the city itself - shops, buildings, parks, people - finishing in the same spot where we began, with an improvised performance using material we discovered on the way. Music will play an important role in this workshop, be it in the form of street sounds or music from various speakers. We invite everybody curious about the process of physical performance creation to join!
July 9, 15:00
Duration: 2 hours
Location: St. Jurgis st. (near the G9 shopping mall)
Registration is required: https://bit.ly/BorderGamesonstreetsofVilnius_REGISTRACIJA
Brūzgynų eilės | Teatro istorijos (LT)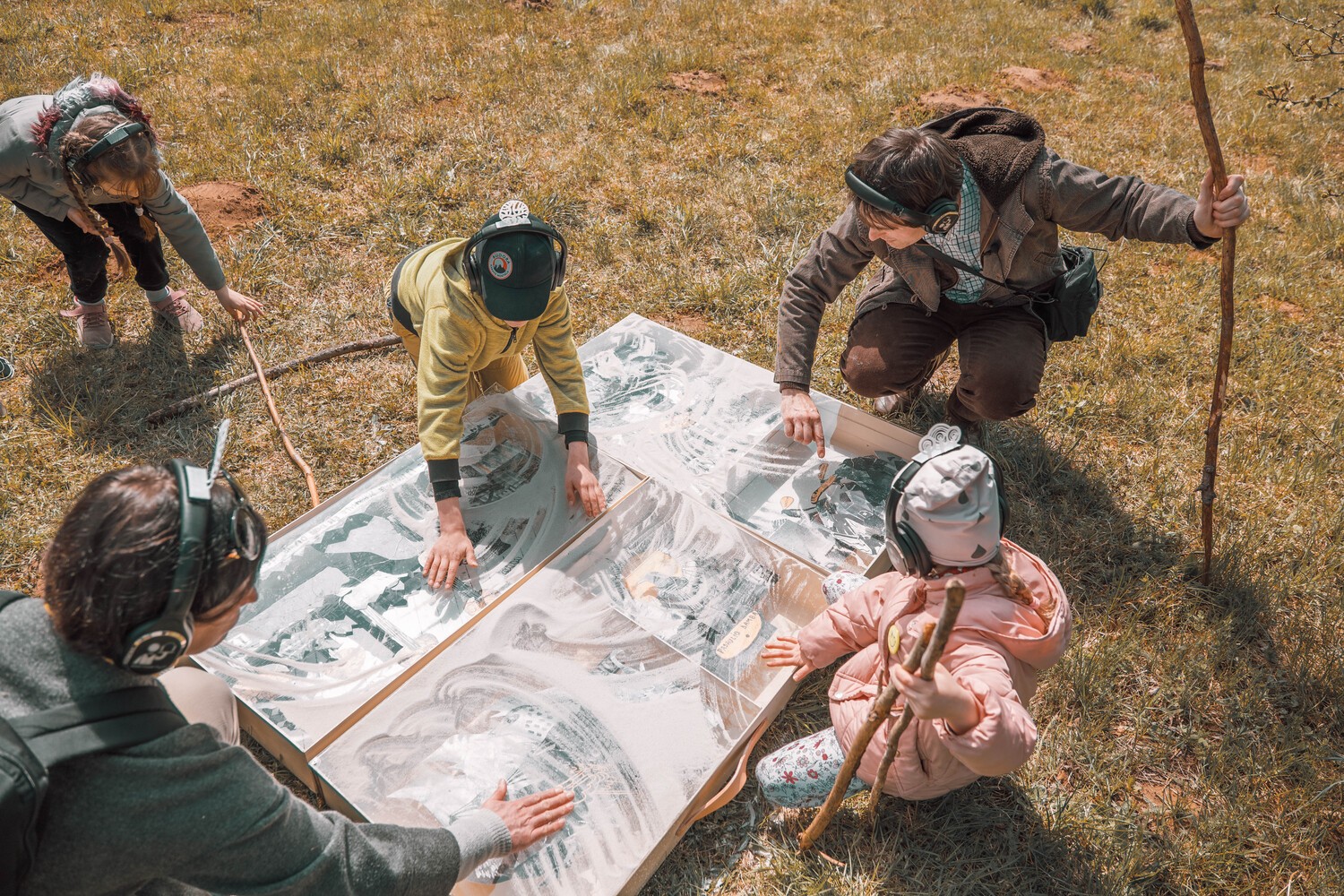 An interactive performance for children while walking along the cognitive trails of Lithuanian landscape and experiencing the country's nature and poetry in a new way, when listening to the poems of Lithuanian poets and stories from the childhood of poet Vaidotas and his forester grandfather, that was spent surrounded by nature. The performance/hike consists of 8 stops, where the participants experience and listen to 8 poems, see eye-catching scenery and unusual art objects, each of them creating small miracles, and the most observant can see and experience even more.
July 10, 12:00 / July 10, 15:00
Duration: 1 hour
Age: 8 to 14 year old children
Location: Pūčkoriai mound foot (Pūčkoriai Cognitive Trail)
Registration is required: https://bit.ly/BrūzgynųEilės_Registracija